Health, Safety & Environment Practice Test
The CSCS Test or Construction Skills Certification Scheme Test was set up in 1995 by the UK Government to reduce accidents and better on-site efficiency on construction sites. It covers a total of 220 occupations and it is the largest scheme in the construction industry.
What is a CSCS Test?
The Construction Skills Certification Scheme was designed to ensure that everyone on a construction site had the health and safety training needed to increase the safety and efficiency of work on these job sites. The CSCS card proves that you have the required training to accomplish more efficiently and conduct work more safely than someone who has not obtained this card.
There are numerous different types of cards available. These cards are colour coded to reflect the level of experience and knowledge the person has obtained. To obtain your card, you must have the required documents. You must also take the Health Safety and Environment test and the CSCS test before you will be awarded your card. The health test costs £21 and the CSCS charge is £36.00. The best method of studying is repetition.
You can use videos, books, CDs, or information you find online to help you study.  However, it is highly recommended to try and pass the mock exams before taking the real thing because if you cannot pass the mock exams, it is doubtful you will pass the real thing.  The CSCS mock tests can also provide you with the confidence and reassurance you need to pass the test with flying colours.
The CSCS Card is colour coded. Depending on your occupation, you will be issued with any of the relevant CSCS cards. Here's a rundown of each colour code:
Red – For workers in further education or working towards SVQ/NVQ accreditation.
Green – For workers with non-specific skills but has NVQ Level 1.
Blue – For workers with a completed Level 2 NVQ/SVQ or has completed the employer apprenticeship.
Gold – For skilled workers or supervisors who have completed an indentured apprenticeship or Level 3 NVQ/SVQ.
Black – For managers with Level 4 NVQ/SVQ.
CSCS Test Information
The United Kingdom set up the Construction Skills Certification Scheme during the mid-1990s. The Construction Skills Certification Scheme, or CSCC as it is most commonly referred to, was created to increase the safety and efficiency of construction sites.
It does this by educating construction workers and ensuring that they have the knowledge they need when it comes to the very basics of safety and health. Over one million people in the construction industry have taken this test, and it is becoming very common for sites to demand those working with them have taken this test. The number of sites demanding their workers to have taken the CSCS is likely to double very soon.
The actual exam is fifty questions long. As you are taking the exam, you will notice that there are two different sections. 38 multiple choice questions on health and safety make up the first half of the exam, with 12 behavioural case study questions making up the last half. The case study questions are there to test you on your reaction to a situation that may occur and would be critical to you and those around you in the ways of safety.
How to get a CSCS Card?
To get a card, there are a few things you must do. First, you have to fill out the application form. Once the form is complete, you must pass the Health, Safety and Environment test before you will be allowed to sit and take the CSCS test. Once you have finished all three of these things, your name will be added to a database containing information on all workers who have the necessary competence to work in the construction industry. They have taken steps to prove they have this knowledge.
You must have a CSCS card if you want to work in United Kingdom's construction industry, regardless of the role you wish to play.
You must understand when you apply for a CSCS card, you are saying that you have taken the training and obtained the qualification you need to do your job. The point of the card is to prove this is true. The card classification you will be applying for is dictated by your qualifications, the occupation you have chosen, and whether or not you are a member of a professional association.
For you to apply for a card, make sure that you have consulted with the online CSCS card finder to figure out which card you need. It also helps to verify what CITB Health Safety and Environment test you will be required to complete before you can apply for a card.
Once you have finished your test, you can apply for the card. First, check and make sure that you have gathered:
£36 to pay the CSCS charge. (The charge for the Health, Safety and Environment test costs a separate amount of £21.)
The name, address, and phone number of your current employer. If you are not currently employed, use the information for your most recent employer.
Make sure that you have double-checked and ensure the application criteria you have met match what is required by the card you are applying for.
You can fill out and send the application form, required documentation, and payment through the mail. It takes up to 35 business days for these to be processed.
The process is pretty similar for CSCS card renewal.
About the CSCS Test
The test is to assess the skill and knowledge of the worker in the construction industry, along with testing the individuals on different safety standards. Knowledge of these safety standards is essential to ensure the safety of the employees as well as any other people who may be present on construction sites.
Types of CSCS Cards
There are many different types of CSCS cards you can apply for and it all depends on the occupation you will be applying for and the qualifications you have in the construction industry. There are around 13 different types of cards you can apply for, do not fear though you will be given guidance on which card is right for you when you go through the application.
The Construction Skills Certification Scheme is designed to improve competency among workers and, at the same time, equip them with basic health and safety knowledge to carry out a safe working environment. Once the worker passed the relevant Health, Safety and Environment Test, a corresponding colour-coded card will be issued depending on the skills and occupation.
The different Card Types are the following:
Yellow, Site Visitor – This card is for those who frequently visit the site but have no construction skills.
Green, Construction Site Operative (Labourer) – This is for those with basic site skills and who achieved N/SVQ Level 1 or employer's recommendation.
White/Yellow, Professionally Qualified Person – This card is for those who are members of CSCS-approved professional bodies.
White/Grey, Construction-Related Occupation – This card is for workers who perform construction-related occupations but are not covered by any of the card categories available.
Gold, Advanced Craft / Supervisory – This is for workers who achieved a Level 3 S/NVQ or have completed an indentured apprenticeship or employer-approved apprenticeship with City and Guilds of London Institute Advanced Craft Certificate.
Blue, Skilled Worker – If you achieved a Level 2 S/NVQ or completed an employer-sponsored apprenticeship with the City and Guilds of London Institute Advanced Craft Certificate, you can apply for this type of card.
Black, Manager – This is for managerial employees with Level 4 or 5 S/NVQ or Level 6 or 7 QCF in the relevant occupation.
Red, Trainee (Craft and Operative) – This card is for registered trainees who has not yet completed S/NVQ.
Red, Experienced Worker – This card is available for those with at least one year's on-the-job experience.
Except for the Red Cards, all cards are valid for three (3) years and are renewable.
For more information about the different types of cards click here.
What Other Cards Can I get?
JIB Card
If you are in the plumbing industry, you should get a JIB Card, including the Blue JIB Card. We have even created a JIB mock test for you to take.
CCDO Card
Demolition operatives should have a CCDO Card, these cards prove and ensure others of their safety in the workplace. There are a few different types of cards from Demolition Manager down to Green Labourer.
CISRS Card
To uphold the highest safety standards with scaffolders and other workers working at height, the CISRS Card is designed for you. These include cards such as Green, Red, Blue, Gold and White, with different variations depending on your individual role.
A few different colours of card, these include Green, red, black, blue and gold. The SKILL cards are issued for those within the engineering services, maintaining a level of high-quality safety standards.
CSCS Mock and Practice Tests
Before sitting your CSCS test it is very important that you study for it, only applicants that pass the test will be granted their card. It is also very good practice to take as many mock exams as you can, we have a load to help you practice, so take as many CSCS Mock Test questions as possible. Why not try our full 50 question CSCS mock test for 2022.
To help you, there is a wide range of material to help you study in many languages and benefit anyone who works in construction in the UK. Once you have registered to take the CSCS test your study material will be delivered straight to your door. Once you feel ready to take your test you can choose one of the many test centres around the UK to sit your test. Wherever you are in the UK you will not be too far away from a centre as they are dotted all across the country.
What are the behavioural case study questions?
From April 2012, the CITB health, safety and environment test have added another way for you to be tested on how you would react and behave on a construction site. There are 12 case study questions that will test how you react to a certain situation, some basic common sense in most cases.
CSCS Card Information
What Should I Do If I How lose my Card?
You are in luck; if you lose your card you can apply for a duplicate card to be sent out to you, only if your original card was still valid and in date. These will be sent out to you without having to take any extra tests.
Why is a CSCS Test so important?
If you do not hold a card, it will be almost impossible for you or anyone to work within the construction industry in the United Kingdom. Pretty much every company in the construction industry will need you to have a card before they would even think about letting you have the job, this acts as proof that you know the information/health and safety guidelines that will keep you and others safe on the construction site.
Who needs to have a CSCS card?
Everyone that is thinking or currently working in the construction industry should hold a valid card. This doesn't just mean the operatives, this also includes the managers and the supervisors. Depending on the card you hold will depend on the privileges you have, just for example, a site operative will not have the same access to machinery that a supervisor would have. Pretty much all worksites in the UK will need all of their subcontractors to have a valid card or that cards equivalent, no matter what work they are carrying out. Even if you are just a regular visitor to a construction site who does not even have any construction skills or training, you should at least have a yellow card before entering the work site.
How Long is a Card Valid For?
Depending on which card you have will dictate how long your card will be valid for, lengths of validity range from six months up to 5 years. Check the details of each card when you apply and be sure to check out the information we provide.
How Long Will It Take To Receive The Card?
When you have passed your exam, and all the documentation and paperwork has been received, you should receive your card by post within 30 working days.
CSCS Test Card Cost
Read about the CSCS Test Card Cost here.
Choosing the right CSCS Test study material and books
There are many ways you can study for your exam, there are a few revision books you can buy on the market, Amazon is a good place to start. Some people prefer a more interactive way of studying, such as training CDs that have the same exams we have listed on your site but some people will just fancy using the old-fashioned book to read as and when they can and get a chance to. They will both have the same amount of useful content to help you pass so it is all up to personal choice.
How To Pass The CSCS Test
Passing the test is a quite simple and easy task to achieve. We find that most of the people who sit their CSCS test pass the first time after using our mock exams to help them practice. All that is needed to pass your exam is a simple two-step process, the first part is to help over to our CSCS revision material and read up on the topics you will face in the test. The second part is to take some of our practice mock tests, these tests will give you a feel of how the exams work and the type of questions you will face. All it will take to get your card are those 2 steps.
You can use the revision material we have laid out on this site, for example, the different fire extinguisher types to help you study and to get a better feel for the exam questions to use our mock exams, which have the most common types of questions you will face.
write me an informational article on How to Book a CSCS Test including online, by telephone and by post. Provide information on what you will need to book a test and any special assistance that is available
Booking a CSCS Test
Booking a Construction Skills Certification Scheme (CSCS) Test is an important step in ensuring you have the right qualifications to work legally in the UK construction industry. With CSCS, you can demonstrate that you have the skills and knowledge necessary to do your job safely and confidently.
Online Bookings
To book a CSCS test online, visit the official website: https://www.cscs.uk.com/book-a-test/. You will need to provide personal details such as name and address, contact information (phone number or email address), date of birth, nationality, payment details for credit/debit card payments and any special assistance requirements. Once completed successfully, you will receive an acknowledgement email with further instructions on how to complete your booking process.
Telephone Bookings
Alternatively, if you don't wish to book online then call 0344 994 4777 from Monday to Friday between 8am – 5pm GMT for telephone bookings – this service also applies to customers who require special assistance when taking their test e.g wheelchair access etc.. When calling please ensure that your full payment details are ready including the name on card; expiry date; 3 digit security code; debit/credit card type e.g American Express / Mastercard / Visa etc.; billing address & postcode of where the statement is sent out by bank each month OR PayPal account information if paying through PayPal only.
Alternatively if paying by cheque or postal order please make payable directly to 'ConstructionSkills Certification Scheme Ltd' quoting reference numbers provided at time of enquiry & send directly via recorded delivery within 14 days before the scheduled exam day along with a printed copy of 'Confirmation of Payment Form' which must be filled out clearly showing all required information asked for including candidate ID number issued at the time of booking.
Postal Bookings
For postal applications please download the application form available from https://www.citb.co.uk/documents/cards_and_testing/2017%20revision%20of%20website/testing%20services/postal%20application%20form%20-%20hse%20test.pdf; fill it up completely & sign it before sending back together with proof of identity documents (passport photo page + utility bill dated not more than 6 months old ) plus full payment either by cheque or postal order made payable directly to 'ConstructionSkills Certification Scheme Ltd' quoting reference numbers provided at time of enquiry within 14 days prior exam day.
All requested documentation should then be posted through a recorded delivery envelope addressed: CSCS AUK LTD, PO Box 1286, Warrington WA1 9GN. Please allow up 10 working days after receipt confirmation from us confirming successful registration into system before being able view confirmatory emails containing login details needed to access our tests platform.
Special Assistance
If you require special assistance when taking your CSCS test, please call 0344 994 4777 to arrange for this. Special assistance includes wheelchair access and other reasonable adjustments that can be made. Any special requests must be made at least 14 days before the scheduled exam day in order to ensure adequate arrangements are made.
Cancelling or Postponing the Test
If you need to cancel or postpone your CSCS test, please contact 0344 994 4777 as soon as possible. Refunds are not available for cancellations and changes made less than 3 days before the scheduled exam day.
We hope this has provided useful information on how to book a CSCS test online, by telephone or by post, what you will need to provide when booking and any special assistance that is available.
Taking the CSCS Test in different languages
When writing this page (2022), the main default language for the CSCS exam is English.
Those of you who would like to take the operatives CSCS test will have a choice of using voice-overs in the following languages:
Bulgarian
Portuguese
Hungarian
Punjabi
Russian
Romanian
German
Czech
Lithuanian
French
Spanish
If you need the test in another language than the ones we have listed, you should request an interpreter when booking.
For those of you who would like to take the specialist test, unfortunately, at the moment, there are no pre-recorded voice-overs available. You will have to ask for an interpreter when booking your test if you need one.
For those of you who would like to take the managers and professionals (MAP) test, there will be no voice-overs, and no interpreter as these tests require you to have a basic command of the English language.
For a list of the test centres in the UK click here.
What You Need to Know about the CSCS Test
The test was designed to test the level of skill and knowledge a person working within the United Kingdom's construction industry contains, while simultaneously testing their competence in various safety standards.  These standards are critical to a person's ability to perform work in a way that ensures they, and everyone else present on the construction site around them remain in a safe environment.
You must study for the CSCS exam before you take it. You will only be awarded the card you need to work within this industry once you have completed this test. For this reason, you must study before you sit and take the test.
There are books available that you can buy to help you study for the CSCS exam.  However, most individuals obtain knowledge better when using an interactive and engaging means of studying the information.  Training CDs and YouTube videos are good tools that you can use.  How you study is mostly up to your personal preference and style of learning.
However, the more you practice taking the test, the better your test-taking skills will be. Combined with the repetitive action of learning the material, it will help ensure that you can pass the test. CSCS mock exams allow you to test what you have learned and ensure that you can pass the CSCS test with flying colours.
The more tests you take, the more prepared you will be when the time comes for you to sit for your exam finally. There are numerous materials available to aid you, or anyone else working with the United Kingdom's construction industry, as you/they study for this exam.
Once you have completed the task of registering for the test, you should find a study method that works for you and begins preparing as soon as possible. Once you feel confident in your ability to pass an exam, take a few mock exams to ensure that you are ready. If you cannot pass the mock exams, you probably will not pass the real thing.
Truthfully, passing the CSCS test is the same as passing any other test you have ever taken.  You must study the topics that you have learned. Familiarise yourself with the information and bring it back into the forefront of your mind.  You can use videos, books, CDs, and practice tests to help you your study.  Our mock exams, resources, and information are aimed at ensuring everyone has the confidence and information they need when test day arrives to pass their CSCS test and obtain their card successfully.
Tips for Passing the CSCS Test
It will only take you 45 minutes or less to answer the 50 multiple choice questions. A grade of 45 must be obtained to pass and eventually be issued a CSCS Card depending on your occupation. That being said, here are tips that will help you pass the test.
Gather relevant revision materials or books related to health, safety and environment. There are a lot of reference materials such as Question and Answer books, DVDs, supporting publications or mobile applications available and can be downloaded online. There are also a lot of sample exam questions online, which you can use and download. Maximise the power of the Internet and utilise those resources. However, just make sure you are using the appropriate materials for your occupation and qualifications. The revision materials for operatives and specialists are different from those of the managers and professionals.
Watch videos on training techniques. Aside from the sample questions, there are also a lot of videos that are focused on sharing techniques on how to answer a particular question.
Watch the Setting Out film. The Setting Out film is a free video presentation that talks about the different safety measures needed in the construction site. It also provides tips on how to promote a safer working environment. Take note that 12 questions will be based on this video so watching it is a must.
Enrol in training courses. To increase your chances of passing, completing an appropriate training course depending on your skill level will help. Each occupation has a corresponding training course so contact your industry body for recommendations.
Answer a mock test. Answering a mock examination will be beneficial for you to pass. There are many mock exam websites available on the Internet that have updated questions and colour-coded scenarios depending on your occupation. Such questions are derived from actual scenarios from the official book. By answering a mock test, it will give you a feeling as if you're already taking the test. Plus, you will be able to gauge whether you are ready for the test or not yet.
Get a good night sleep the night before your exam and arrive early the following day. Having a well-rested mind will help you answer the test correctly. At the same time, arriving early, at least 15 minutes before the scheduled time, will help you prepare mentally and emotionally.
The CSCS Test is not designed to make your life difficult. But by doing these tips, you will surely pass the exam and get the CSCS card you rightfully deserve.
Top 3 Reasons Why You Need to Take the CSCS Test
Being part of the construction industry means you achieved a certain level of qualification needed for the trade you belong to. Imagine if everything the public step on is made of incompetent and unskilled people – they will no longer trust the construction industry. Therefore, all workers in this field must be equipped with the necessary skills and knowledge in properly carrying out the job.
There is no better way of doing this than requiring workers to undergo tests. One major test that each worker in the industry must take is the CSCS Test, also known as the Health, Safety & Environment Test. Introduced in 1995, the CSCS Test is a standardised test that aims to improve the efficiency in the construction industry in the UK.
You may ask – is it vital? Is there a need to pay for £21 for the test and £36.00 for the card just to prove my competency in my chosen field? Why do I have to take the CSCS Test when I am already knowledgeable about various health and safety issues?
To answer your questions, here are the reasons why you need to take the CSCS Test.
It proves your knowledge of handling health and safety issues. The Construction Skills Certification Scheme was introduced to address the need for quality, competence and safety in the work field. Aside from getting the job done, employers want to ensure that all its workers are equipped with adequate health and safety awareness and techniques to promote a safe working environment.
Taking the test only shows that you are adequately fit to carry out safe working practices. It also proves your knowledge in case confronted with health or safety situations and emergencies properly.
The CSCS test comprises 50 multiple choice questions that focus on examining one's knowledge on various safety, health, and environmental issues in the construction site. Once you passed the test, you will be issued a corresponding card depending on your skills and occupation.
It benefits you, your employer and the construction industry. Taking and passing the test has a lot of benefits. Aside from getting the CSCS card which will serve as proof of your skills and qualifications, it also shows you possess health and safety knowledge essential in carrying out on-site duties in a safe manner. Since you and your co-workers went through the same process in taking the test, you are assured of a safer work environment.
Taking the CSCS Test will also benefit your employer. The construction industry is an important industry; hence employers want to employ only the best. Taking and passing the CSCS Test shows you are suitable and competent to carry out the job.
And because of the different health and safety benefits that resulted from the scheme, the number of fatalities and construction-related risks has reduced significantly. This resulted in confidence in the quality of workmanship.
It is your passport to employment. While the law does not require all workers to obtain a card, most companies in the UK have made it mandatory for those working or planning to work in the construction industry. Employers are more confident and more willing to hire applicants that are CSCS card holders than those who cannot provide proof of their skills and qualifications. Taking and passing the CSCS Test assures employers that the CSCS cardholders have the basic knowledge needed to carry out safe working practices.
Plus, you cannot access the construction site without taking and passing the CSCS Test.
Keep in mind that taking the CSCS Test is not an easy task. Therefore, preparation is necessary to obtain the card you deserve.
Another Top 5 Reasons Why You Need a CSCS Card
The construction industry is one, if not the most important industry in society today. Without them, no one will construct the buildings, roads and highways and other concrete and stable foundations needed in everyday life. Because it plays an important role, it only follows that its workers should be skilled and competent enough to fulfil the needs of the public.
Hence, the CSCS or Construction Skills and Certification Scheme was introduced. It aims to improve every worker's competency and efficiency on site and reduce the number of fatalities associated with the construction industry.
Since its introduction in 1995, CSCS has become the largest scheme in the construction industry, covering a total of 220 occupations. Because of the many benefits it brings, the majority of construction companies decided to make the CSCS Card a mandatory requirement.
Obtaining a CSCS card may take some time.
Nonetheless, here are five reasons why you need a CSCS Card and how it can benefit you.
It serves as proof of your skills, certifications, and achievements. Telling an employer that you have this set of skills and has achieved those certifications are easy. However, employers are always after proof. Having a CSCS Card makes it easier to prove your skills and competency in carrying out the job required for your trade. Plus, it is easier to check your set of skills and qualifications since all the information is recorded in a database.
It proves your health, safety and environmental awareness. Health and safety have become a major concern in the construction industry. Before the introduction of the scheme, the number of casualties on the site has increased drastically. There are a lot of reported accidents and other fatalities because workers are not properly equipped with basic health and safety knowledge. With the introduction of the scheme, all workers are required to take and pass the health and safety test. This is to ensure that every individual working in the field can properly respond when confronted with health or safety issues on the site.
It allows you to work on construction sites. 80% of the construction companies in the United Kingdom require its workers to be CSCS cardholder. Because of the risks associated with the job and the need to provide quality output for the public, the CSCS card test has become a mandatory requirement. It will be difficult for you to get a job or even enter the construction site without presenting the card.
It serves as an identification tool. Imagine carrying different identification cards just to prove you hold this particular skill or qualification. It's really inconvenient. If you get a CSCS card, it serves a dual purpose since it contains all your qualifications as well as your relevant personal information. It will also be easier for your employer to check your records since all the information can be found on just one card.
It helps improve the relationship among co-workers. A good working relationship with your co-workers is very important to maintain a harmonious atmosphere in the site. Since you and your colleagues went through the same process, you better appreciate what was needed to pass. This, in return, will make you feel more comfortable working with your colleagues.
It only takes £57.00 in order to get this card – £21 for payment of the Health, Safety and Environmental Test, and £36.00 for the card. While this amount may seem a lot, imagine the benefits, experiences and return you may gain as you grow in the construction industry.
If anyone is asked to describe a modern city, the things that generally come in his mind are the skyscrapers, flyovers and other such large magnificent creations of man. Construction, if considered a business, which obviously it is, is by far the most necessary and flourishing sectors. And this is the outcome of the hard work and the brains of the numerous skilled workers applied in the construction. For these few facts, the government has introduced the Construction Skill Certification Scheme or CSCS to better assess construction business professionals.
The CSCS scheme and its necessity
The Construction Skill Certification Scheme or CSCS is introduced with the sole purpose to make constructions safe, secure and foolproof as a minor mistake can result in a devastating outcome. The professionals need to appear as well as clear the online CITB Health Safety and Test. The test is followed by applying for a card in the CSCS. The card issued to the professional serves as a unique identity in the construction sector forever. The test is generally MCQ type and each worker gets a colour coded card based on the marks obtained in the said examination.
The scheme is made mandatory for every professional who aims at pursuing a career in the construction sector. This little card guarantees the cardholder the trust of the consumers. Every construction should consist of delicacy and a better preplanned execution. The CSCS ensures that when they drive on flyovers or step into a large multiplex, they are safe from unwelcome accidents. The card is only issued to those capable of showing high professional standards in terms of work efficiency and skill.
The Health and Safety Test – The First and the Foremost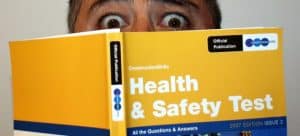 To become eligible for applying for a CSCS card, one needs to clear the CITB Health Safety and Environment Test within the previous two years of applying. The test aims to examine the professionals' knowledge across a range of topics to make sure better performance and productivity. The type of card applied for decides the level of the test to be undergone by the professionals. However, many online sites supply the candidates with the necessary guides and study materials needed to appear in the examination. However, the professionals who have achieved the SVQ or NVQ and are applying for the CSCS card are, however, exempted from taking the test. In a nutshell, this examination will decide whether the concerned candidate is eligible to be defined as a certified constructor.
What it's like being a CSCS cardholder
The CSCS card means everything to a person who wants to do something big in the construction sector. A person may be highly skilled and experienced, but all of that goes in vain without this card. As the grain of the time suggests, nobody likes to take risks in any field of life. So, when anyone takes the responsibility of constructing anything and fails to produce the card in front of the consumer, they will be sacked then and there. So the importance of the CSCS card is clearly perceivable.
Is there another way to obtain CSCS Card?
Yes, through apprenticeship. It can either be Employer's Apprenticeship or an Approved Apprenticeship.
Under the employer's apprenticeship (blue card), you need to provide a completion certificate from your employer together with the details on when it was completed. A copy of the City & Guilds (Craft or Advanced) certificates must also be provided.
For the approved apprenticeship (gold card), you must provide a copy of fully indentured apprenticeship documents gained from an apprenticeship provider. A City & Guilds certificate should also be submitted.
Nonetheless, the HS&E Test must still be taken.