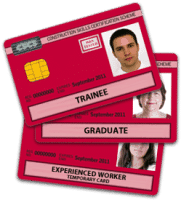 The Construction Skills Certification Scheme or CSCS is the biggest and most recognised scheme in the construction industry. Although not mandated by law as a mandatory requirement, most construction companies in the UK require all its workers to obtain a corresponding CSCS card before allowing them to have access to the site. This is to make sure that all the workers are equipped with the necessary skills and competency requirements and at the same time, knowledgeable in terms of health and safety issues. The scheme also helps workers to promote a safe working environment to reduce accidents and other fatalities.
If you are in the process of training or gaining your SVQ or NVQ qualifications, then the Red CSCS Card will be issued to you.
Red CSCS Card: Trainee for Craft and Operative
To qualify for the Trainee Card, you must be operating as a trainee and registered for NVQ / SVQ or relevant Construction Award. However, you should not have achieved a Level 2 or 3 NVQ or SVQ.
The Trainee Card will be valid for three years only or until the trainee course has been completed and you applied for the corresponding card for your occupation.
Red CSCS Card: Trainee for Technical, Supervisory and Management
The Technical, Supervisory and Management Trainee card is similar to the craft and Operative Trainee Card. However, you need to provide evidence of your current registration with a higher education college or university for a nationally recognised construction relation qualification to qualify for this card.
This card is valid for three years and can be renewed for another three years upon application.
Take note that you need to submit the corresponding application form. Also, you are required to pass the Operatives Health, Safety and Environment Test first before applying for the card.
Other CSCS Card Types
To read up on all the other types of CSCS cards click here.