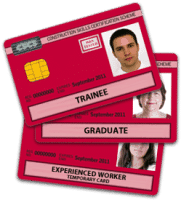 Over the years, the Construction Skills Certification Scheme became a venue for workers to prove their skills and competence. It was also able to equip workers with the necessary safety and health knowledge while working inside the construction site. At present, CSCS became the biggest scheme in the construction industry.
If you are still in the process of gaining your qualifications, then there's a corresponding card suitable for you that is relevant to your occupation.
The Red CSCS Card for Experienced Worker
If you have at least one year for the last three years on the job experience and has missed out an industry accreditation opportunity, then the red CSCS card for Experienced Worker is the right card for you. However, you still need to pass the Health, Safety & Environment Test for Operatives and register for S/NVQ qualification.
Thereafter, the card is only valid for one year and cannot be renewed. It is issued on a temporary basis while you are still in the process of gaining your S/NVQ qualifications. Upon completion of Level 2 or 3 S/NVQ, the red card will be replaced by a 5-year skilled card.
Note that the Green card for Construction Site Operative cannot replace the red card.
Other CSCS Card Types
To read up on all the other types of CSCS cards click here.