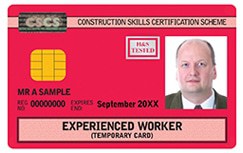 Red CSCS Card: Experienced Technician, Supervisor, or Manager
For more than 10 years, the Construction Skills Certification Scheme or CSCS has been providing a lot of opportunities to all workers in the UK. It provides a proof of their competence and knowledge in carrying health and safety measures inside the construction site.
The scheme recognises all the skills and qualifications, whether completed or still in the process of achieving it. If you are a technician, supervisor or manager who has work experience but lacks accreditation, then the Red CSCS Card will be issued to you.
Overview on the Experienced Technician, Supervisor or Manager CSCS Card
If you are an experienced technician, supervisor or manager with significant on the job experience for at least one year in the last three years but neither holds a Level 3, 4, or 5 S/NVQ nor a member of any of the CSCS-approved professional bodies, then this card is for you.
You need to pass the relevant Health, Safety & Environment Test for your occupation and must be registered for the relevant S/NVQ. Once you pass the test, your card will be issued which valid for three years and cannot be renewed.
Take note that this card is temporary while your N/SVQ is still being achieved.
Other CSCS Card Types
To read up on all the other types of CSCS cards click here.