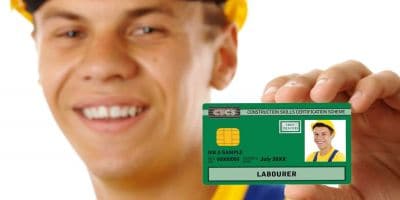 Green CSCS Card: Construction Site Operative/ Labourer Card
UPDATED 28/03/2017
Important Changes
From 1st July 2014, the green Construction Site Operative (CSO) card is no longer being issued.  There is a new green CSCS card test only available for people working in labouring occupations.
More information is available on the CSCS website green card changes web pages.
The construction industry is not just focused on constructing buildings or highways. In fact, it is a large industry that covers different sectors – from plumbing to electrical to supervisors and managers. It also needs different skills that vary from one person to another. Before a card will be issued, there is a need to determine first your skill level and qualifications.
However, if your skill only covers basic site skills or your skills are non-specific, then you can get the Green CSCS Card or the Construction Site Operative Card.
How to apply for a Green Construction Site Operative / Labourer Card

When applying for the green CSCS card, you need to comply with the following requirements:
Proof of competence in carrying out the job.
Employer's recommendation or industry accreditation OR NVQ or SVQ Level 1. When employer recommendation will be used, an employer should use the industry accreditation competencies in recommending you.
Must take and pass the Health, Safety and Environment test for Operatives.
A fee of £19.50 must be paid for the HS&E Test and another £30.00 for the card application. Once these requirements are successfully complied with, a green card will be issued. Said card is valid for five years.
Minimum Activities of a Construction Site Operative / Labourer

In order to achieve industry accreditation, the following are minimum activities expected from a construction site operative –
Can work either as an individual or part of the team.
Use personal protective equipment or PPE.
Use hand and power tools relevant to the occupation.
Care, maintain and secure tools and equipment.
Oral reporting of information.
Identify and select materials and components that are relevant to the occupation.
Ability to meet deadlines.
Handle materials and components based on safe methods and procedures.
Follow company guidelines and procedures in case of accidents or emergency situations.
Follow organisational requirements for current legislation and official guidelines.
Holding a Green CSCS Card does not necessarily mean you are at the bottom of the pyramid. Remember that your skills are relevant and needed in the industry.
Other CSCS Card Types
To read up on all the other types of CSCS cards click here.