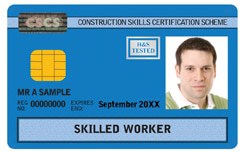 The construction industry has probably the most diverse pool of workers among all industries today. As a matter of fact, the industry covers almost all of the most important skills needed in order to build a stable foundation. Because of its significance in the society, construction companies make sure that all its employees are qualified and competent.
In order to ensure competence among workers and at the same time, make them aware of the basic health, safety and environmental issues on site, the CSCS or Construction Skills Certification Scheme was introduced.
Because of the difference in skill level and competence, the scheme introduced colour-coded cards that will be issued according to the qualification of the worker.
If you are a skilled worker, then the Blue CSCS Card is the right one for you.
How to Apply for a Blue CSCS Card?
The following requirements must be complied with:
The worker must prove that he has sufficient training and qualification to carry out the job.
The worker must submit an application that is relevant to the occupation.
You must have one of the following:
The worker must achieve Level 2 NVQ or SVQ
A NARIC report and certificate equivalent to NVQ level 2 (this route goes through appeal and will require additional documents.)
Or
The worker must have completed an employer sponsored apprenticeship. This should also include the achievement of a City and Guilds of London Institute Craft Certificate.
You must take and pass the Operative Citb Health, Safety and Environment Test. This means out of 50 questions, he should be able to get a score of 47.
On the other hand, if the worker does not have any of the qualifications mentioned in numbers (2) and (3), yet experienced in his job, he can apply for an Experienced Worker Card.
What documents do I need if I use a NARIC certificate?
If you would like to use NARIC to apply, you will need to send the following documents:
Detailed CV
A copy of original qualifications (preferably translated)
Current job description on site
One specific occupation to be endorsed on the card
Please note, we cannot guarantee you will receive the card via this route.
For more information relating to NARIC, click here.
The Blue CSCS Card – Craft Unit Level
This type of CSCS card can be given to occupations where full NVQ or SVQ does not exist but has passed the trade specific units. The Operative Health, Safety and Environment test must also be taken.
How long is it valid for?
The Blue CSCS Card – Skilled Workers is valid for five years and it can be renewed.
How much does the Blue Card cost?
A total fee of £49.50 must be paid upon application – £19.50 for the HS&E Test and £30.00 for the card processing.
Other CSCS Card Types
To read up on all the other types of CSCS cards click here.